A surge in cases is forcing Beijing to adjust its strict pandemic measures, but it's in no hurry to "live with Covid" as other countries are doing.
At first, Xiong Yijie was barred from leaving his residential compound. Now he can't even leave his apartment.
The Shanghai resident is confined to his home as the city battles a virus outbreak with a two-phase lockdown that began Monday in the financial district of Pudong, where Xiong lives.
Xiong, 28, said he sets his alarm for 6 a.m. each morning so he can order vegetables online, but the system becomes overwhelmed with orders and stock runs out within minutes.
"I basically can't buy vegetables now," he said.
The outbreak, driven by a subvariant known as "stealth omicron," is testing China's zero-tolerance strategy, which has minimized cases and deaths compared with countries like the United States through a combination of mass testing, contact tracing, quarantine and lockdowns. But while health experts say Beijing will eventually have to find a way to "live with Covid," it doesn't appear to be in any hurry.
Since March 1, China has reported almost 90,000 infections nationwide, as well as its first Covid-19 deaths in more than a year. While low by global standards, China hasn't seen such numbers since the start of the pandemic.
The outbreak is driving gradual adjustments in policy by officials mindful of a population and an economy already pushed to the limit by two years of restrictions. That was underscored this month when Chinese leader Xi Jinping told top officials that they must remain committed to virus prevention and control while minimizing its effects on the world's second-biggest economy.
Mainland officials are also keen to avoid a repeat of what happened in the Chinese territory of Hong Kong, where a recent omicron outbreak produced shocking images of body bags in hospital corridors and Covid-19 patients on gurneys in parking lots. Most of the deaths have been among Hong Kong residents 80 and older, who have stubbornly low vaccination rates, a situation mirrored in mainland China.
Beijing is fine-tuning its approach based on lessons learned from Hong Kong as well as other places that have dealt with omicron, said Heiwai Tang, an economics professor at the University of Hong Kong.
"Now they know this is a very strong wave and the traditional measures of controlling the virus may not be effective," he said.
This shift has played out in how authorities have responded to outbreaks in major cities like Shanghai and Shenzhen.
Rather than a citywide lockdown, Shanghai is set to lock down for five days in each of its two main sections as residents undergo mass testing. The local government has promised tax relief and other measures to "optimize the business environment."
The city of 26 million reported almost 6,000 new infections on Wednesday, the National Health Commission said, almost all of them asymptomatic.
Shenzhen has emerged from a one-week lockdown during which some factories, including Apple supplier Foxconn, were able to operate under closed-loop arrangements that required employees to stay on site.
"The lockdowns are going to be partial and are going to last for a much shorter period of time and are going to be more precise," Tang said.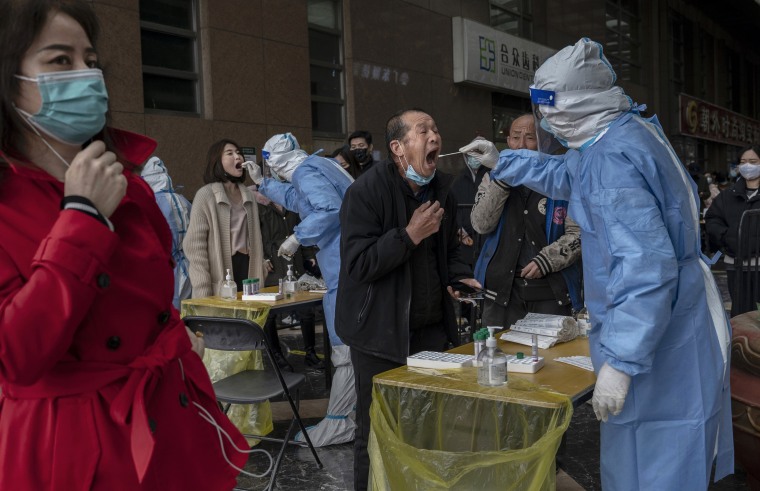 Other recent policy changes included allowing the distribution of at-home rapid antigen tests; giving emergency approval to China's first foreign virus treatment, oral pills developed by Pfizer; and letting patients with minor or no symptoms stay in centralized quarantine facilities rather than hospitals.
But China is nowhere close to lifting all restrictions, especially as Xi prepares to seek an unprecedented third term in office at a Communist Party congress later this year. A large-scale outbreak could bring instability that threatens those plans.
Officials in more remote parts of China have continued to enforce strict measures, for fear that failure to contain an outbreak could cost them their jobs. This month, all 24 million people in the northeastern province of Jilin were barred from leaving the province or traveling within it, the first time an entire province has been sealed off since the start of the pandemic.
"The dilemma here, especially for local policy implementers, is that they are still held accountable for local disease outbreaks," said Yanzhong Huang, a senior fellow for global health at the Council on Foreign Relations. "That would encourage more heavy-handed, nonscientific and even excessive methods of getting things done."
More than 70 local officials have been fired or disciplined since the start of the current outbreak.
The politics of China's pandemic approach go beyond its own borders. Since it tamed the spread of the virus in early 2020, Beijing has hailed the success of its zero-Covid strategy as evidence of its superiority over the West.
"They have denigrated and demonized places which have switched to living with Covid back in 2021." – DONALD LOW, PROFESSOR AT HONG KONG UNIVERSITY OF SCIENCE AND TECHNOLOGY
"They've both politicized and moralized it. They have denigrated and demonized places which have switched to living with Covid back in 2021," said Donald Low, a professor at the Hong Kong University of Science and Technology's Institute of Public Policy.
"They can't openly say that we are now switching to living with Covid, even though that is what their public health advisers and epidemiologists think that they eventually have to do."
Residents are expressing growing frustration. Zhang Zihe, a 23-year-old undergraduate medical student in Shanghai, told NBC News that her experience on the front lines had left her disillusioned about China's pandemic approach.
"I was interning during the pandemic and many hospitals were on lockdown, and almost all the patients flocked to our hospital," she said. "I did not have a break for 19 hours."
Zhang, who said she had decided not to continue with her medical studies after her experience, said the strict pandemic policies had also seriously affected her family's logistics company.
"Our family company's orders were drastically reduced, now we do not have any liquidity, and my grandfather's cancer requires great expenses," she said. "Although my family's attitude is optimistic, I am desperate."
Anger is also mounting over deaths seemingly caused not by Covid-19, but by pandemic measures. Last week, a nurse who suffered an asthma attack at home was unable to obtain care at the Shanghai hospital where she worked because the emergency department was closed for disinfection. The nurse, Zhou Shengni, was taken to a different hospital where she later died, according to a statement from the first hospital.
Zhou's death sent shock and anger across China's internet.
"It seems that as long as people don't die from Covid, it doesn't matter how they die," one user wrote Friday on Weibo, China's equivalent of Twitter.
The rising resentment may test the already fraying limits of China's zero-tolerance policy.
"The problem with zero Covid is that you cannot eradicate the virus," Huang said. "So even if a locality announces the situation is under control, it doesn't mean that's the endgame, it's a repeated game. You're only waiting for the next omicron wave."
While omicron appears to be less virulent, experts say the Chinese health care system would be overwhelmed by an outbreak of the kind that has been seen elsewhere. That is partly because Chinese-made vaccines are considered less effective against the variant.
A widespread outbreak could also shut down large portions of China's manufacturing sector, causing even greater supply chain disruptions.
"If they were to just relax all the restrictions, it would be much worse than what we're seeing today for the Chinese economy and therefore for the global economy," Tang said.
Instead China should use this time to increase vaccinations, stockpile medical resources and prepare the population psychologically, epidemiologist Dr. Zhang Wenhong said in an article this month.
"With this virus, alleviating fear is the first step we must take," Zhang, who is also Shanghai's top Covid adviser, wrote in financial news outlet Caixin.
But shifting away from zero-tolerance is difficult when the virus has been portrayed as an "intolerable enemy" for so long, Low said.
"They have created a situation where there is no easy exit," he said, "and there's no easy way to tell the population that living with Covid is inevitable."